Running a successful business requires effective financial management, which includes safeguarding your hard-earned money. When it comes to choosing where to safely place your money, selecting an account at an FDIC-insured bank should be at the top of your to-do list. In this article, we will discuss how you can secure your business finances and ways to maximize your deposits through various strategies, including sweep accounts, business money markets, IntraFi℠ Network Deposits℠, and more.
The FDIC: Understanding It's Limits and Protection
The FDIC is an independent agency of the U.S government that provides deposit insurance up to $250,000 per depositor, per insured bank, per account ownership category. All deposits owned by a business at the same bank are added together and insured up to $250,000, separate from personal accounts of the owners.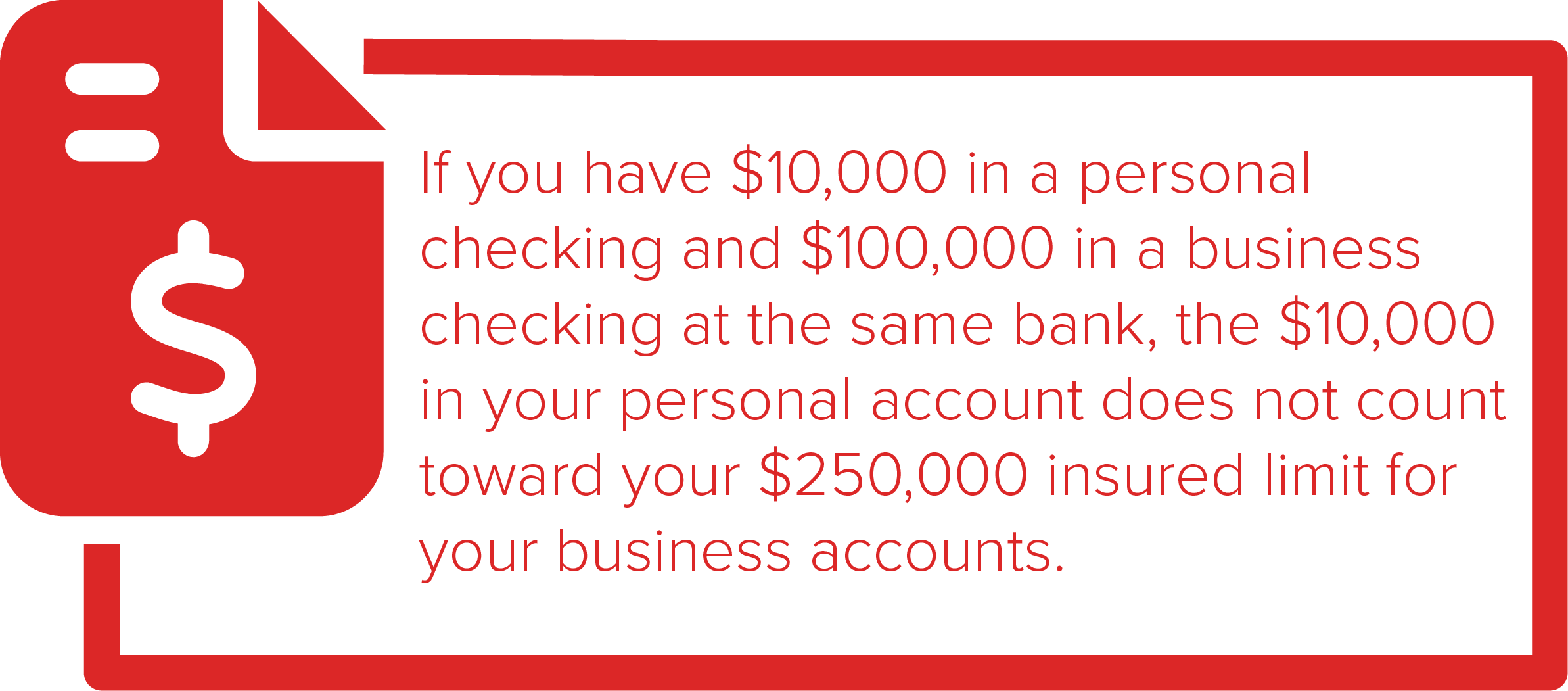 To secure your business funds with FDIC insurance, follow these key steps:
Verify FDIC Membership: Most banks display the official FDIC logo on their websites but you can also confirm by using the FDIC's BankFind Suite tool.
Maintain Proper Records: Keep accurate records of your deposits and account ownership structures. The FDIC relies on these records to determine insurance coverage in the event of a bank failure.
Learn the Account Types That Are Insured: It's important to know that the FDIC does not insure investment products nor deposit boxes. We've compiled a list of insured accounts vs not insured below.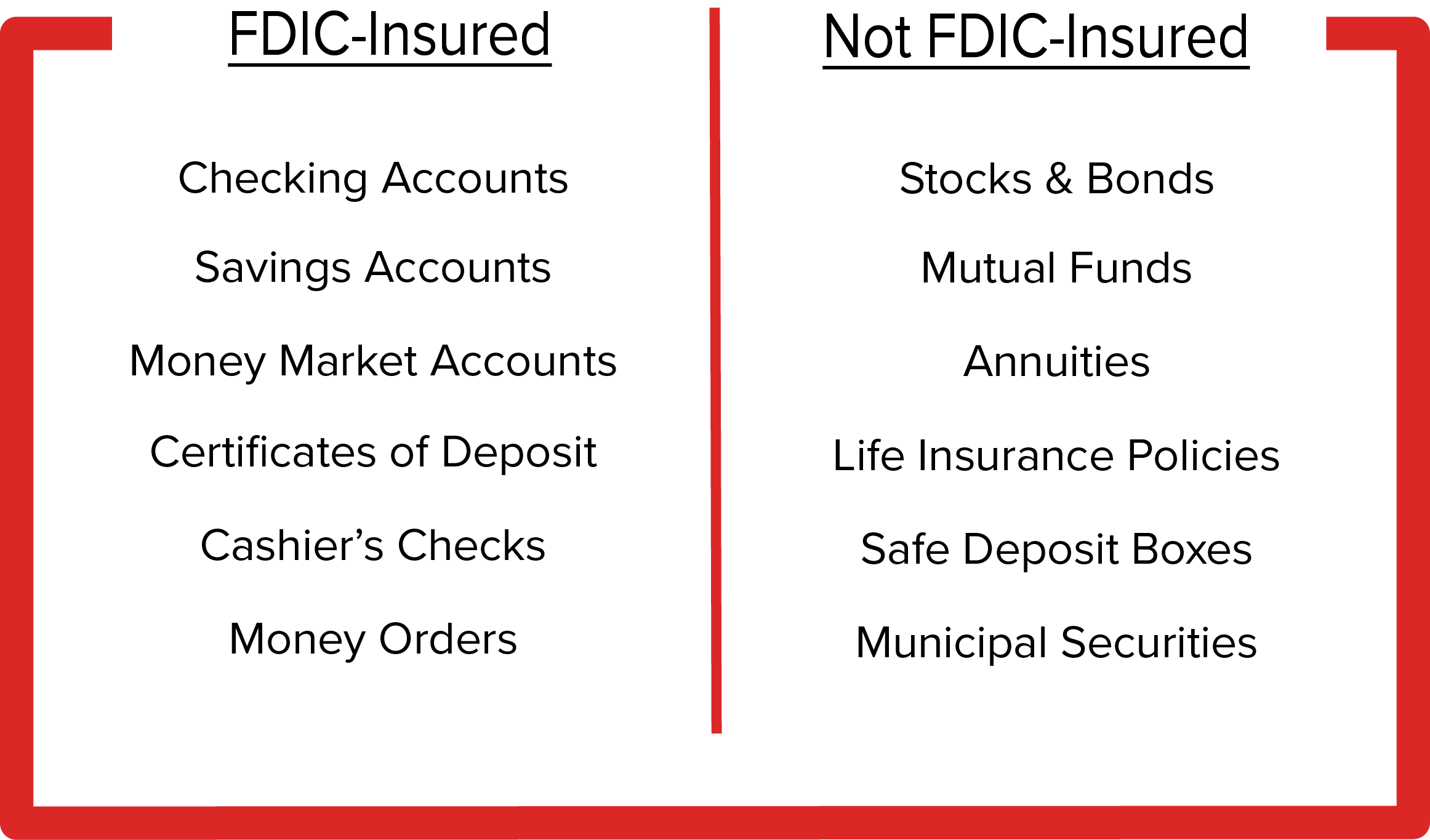 Maximizing Deposits and Coverage
Now that we've covered the importance of FDIC coverage, let's explore strategies for maximizing your deposits and coverage:
Sweep Accounts
Sweep accounts
automatically transfer excess funds from your checking account at the close of each business day into higher interest-earning account options, such as money market accounts or certificates of deposit [CDs]. Funds sweep back to your operating account to cover pending ACH debits and checks, so that you know you're covered. All in all, this allows you to earn more interest while maintaining liquidity.
IntraFi℠ Network Deposits℠
IntraFi℠ Network Deposits℠
is a network of banks that allow you to access FDIC insurance on deposits exceeding $250,000 all through a single Farm Bureau Bank relationship. It is a smart, secure, and convenient way to safeguard large deposits placed into demand deposit accounts such as money markets or certificates of deposit.
Business Money Market Accounts
Business money market accounts
combine the liquidity of a traditional business checking account with higher interest rates. These accounts often come with tiered interest rates, meaning the more you deposit, the higher your interest rate will be.
Certificates of Deposit
CDs
offer fixed interest rates and terms that range from a few months to several years. They are a low-risk way to lock in a specific interest rate, providing a predictable return on your investment.
Treasury Management Services
Leverage
treasury services
to
optimize your cash flow
and reduce idle funds. Here at Farm Bureau Bank®, you have access to the following services:
Business Credit Cards
Consider using
business credit cards
that offer cashback rewards or other perks. By using a business credit card for your expenses, you can delay cash outflows, maximize cash-on-hand, and take advantage of rewards programs.
Conclusion
Protecting and maximizing your business deposits are essential aspects of financial management. FDIC insurance offers a safety net, but it's equally important to explore deposit maximization strategies like sweep accounts, business money markets, IntraFi℠ Network Deposits℠, and more. By combining prudent deposit management with FDIC coverage, you can safeguard your business's financial future and make the most of your hard-earned money.
At Farm Bureau Bank® you have access to a
dedicated team
of knowledgeable bankers and tailored services that will help align your business to its specific needs and goals.