How Can We Help You Today?
Purchase a Home
Whether you're a first time home buyer, a Veteran, upgrading to the home of your dreams, or something else, whatever your situation, we've got a mortgage for you.
Refinance My Home1
Looking to get a better monthly payment, reduce the length of your mortgage term, or need cash for a project? Unlock the value in your home's equity with a refinance today.
Land Loans
Building a place your family can enjoy for generations starts with the right financing. We can help you find the right resources.
90-Day Lock & Shop
Our 90-Day Lock and Shop2 program allows you to lock in your interest rate for 90 days while you search for a home.
$500 upfront lock fee is fully refundable at closing or if loan is denied
Property must be identified by the 60th day of the lock
Rate renegotiation allows you to take advantage of a lower interest rate if rates go down after your rate lock
Available for Conventional, FHA, VA3, and USDA4 loans
Apply For A Loan

: 90-Day Lock & Shop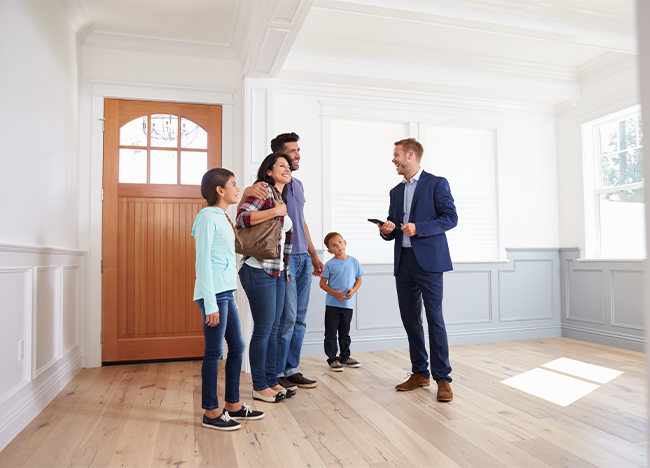 As part of the Farm Bureau® family, we understand the long tradition of helping folks like you achieve financial success. That's why we work with your state's Farm Bureau, Farm Bureau Insurance, and Farm Bureau Bank to provide mortgage loan solutions under the same umbrella.
Along with a simple application process and dedicated service, Farm Bureau members get a special offer!
Up to $500 towards closing, plus no processing or underwriting fees5
Your home is likely the biggest investment you'll make and financing it shouldn't mean jumping through hoops. Whether you are a first-time or repeat homebuyer or simply want to refinance, our team will be with you every step of the way, making this process as easy as possible. With personalized service and competitive pricing, we are committed to being the mortgage provider of choice for Farm Bureau members. With us, you get:
A Special Offer - Farm Bureau Members receive up to $500 towards closing, plus no processing or underwriting fees5
A Simple Process - Complete your application anytime, anywhere online or via phone
Dedicated Service - Our Loan Consultants understand Farm Bureau members and their needs
More Loan Choices - We offer a wide range of purchase and refinancing options for residential properties
What Our Customers Are Saying
Kelly B., Texas
Our Loan Consultant was just fantastic! He walked us through the whole process and was ALWAYS available to answer our questions.
Pamela C., Georgia
Carlie was very professional and she was very good at communicating with me and informing me when I needed to do things. I didn't experience any issues or troubles.
Allison B., Alabama
Everything went as smooth as it could be and the lending officer was just as helpful and sweet! The stress free process was great.
Frequently Asked Questions [FAQs]
Farm Bureau Mortgage was established to provide a superior mortgage experience for Farm Bureau members that is transparent and less stressful. By partnering with loanDepot, we can combine Farm Bureau Bank's commitment to superior service with loanDepot's innovative technology and trusted mortgage expertise, delivering a seamless experience to homeowners.
Online
We recommend that you apply online at www.farmbureau.mortgage for the fastest service.
By Phone
If you would like to speak with a Loan Consultant or need assistance with the application, call 877.388.5354. Representatives are available Monday – Friday, 7am – 7pm CT.
Our online mortgage application is powered by loanDepot allowing us to leverage its industry-transforming technology and operational support. We have a dedicated mortgage team committed to supporting homeowners throughout the home buying or refinancing process.
You may receive mortgage emails and other communications from both Farm Bureau Mortgage and loanDepot. This allows us to provide more efficient interactions during the application and closing process, resulting in a faster and more transparent process for the homeowner.
After the mortgage loan closing process, you will receive loan servicing details with guidance on how to repay your mortgage loan, including your loan number, first payment date, payment amount, and accepted payment methods. This communication may come in the follow forms:
Welcome to Servicing or First Payment letter

Included in closing documentation

Payment update info

Available by signing into the Farm Bureau Mortgage application dashboard
Detailed payment info may not be available for approximately 10 days after closing

Mortgage loan statement

Mailed to address on application approximately 20 days after closing
Disclosures:
1 By refinancing the existing loan, the total finance charges may be higher over the life of the loan.

2 Property must be identified by the 60th day of the lock, otherwise the rate will no longer be locked. Interest rate lock requires a deposit of $500. In order to qualify for a rate renegotiation, the file must be conditionally approved, the appraisal must be received or property inspection waiver (PIW), and current market pricing must be at least 100 basis points better than the original lock date. The lock expiration date will remain the same upon applying a rate renegotiation. Upfront deposit fully refundable at closing if buyer chooses to close with Farm Bureau Mortgage (refund in the form of a credit in escrow for the amount of your deposit), or if the buyer cannot find a property within 60 days on the 90-day lock. If buyer cancels loan with a chosen property within the lock period, there will be no reimbursement for any out-of-pocket, loan related costs including the lock deposit. Not available for all programs. Other terms and restrictions apply. Please discuss options with your loan officer. This information is not intended to be an indication of loan qualification, loan approval or commitment to lend. Loans are subject to credit and property approval. Rates, terms, and availability of programs are subject to change without notice.
3 Subject to VA Eligibility.
4 Subject to geographical restrictions.
5 This offer must be mentioned at time of application, which extends a credit of up to $500 applied at the time of closing. Offer excludes the "One-Time Construction" loan product. Borrower is responsible for closing costs incurred if the loan does not close and/or is not funded by Farm Bureau Mortgage, LLC. A borrower may not use this offer to obtain a refund for closing costs in the event that a loan fails to close or fund. This offer cannot be used with any other discount or promotion. This offer applies to mortgage applications and is subject to change without notice.
Farm Bureau, FB, and the FB National Logo are registered service marks owned by and used by Farm Bureau Mortgage under license from the American Farm Bureau Federation. Farm Bureau Mortgage is a service-to-member institution which provides mortgage services to Farm Bureau members and others in participating states. See Affiliated Business Arrangement Disclosure for more details.
NMLS ID 2122423. Visit Licensing or NMLS Consumer Access for details.