CardControls
Stay in control of all of your cards, anytime, anywhere with Farm Bureau Bank's FBBCardControls app.
Turn cards on or off
Set spending limits
Set merchant categories
Get card alerts
and more!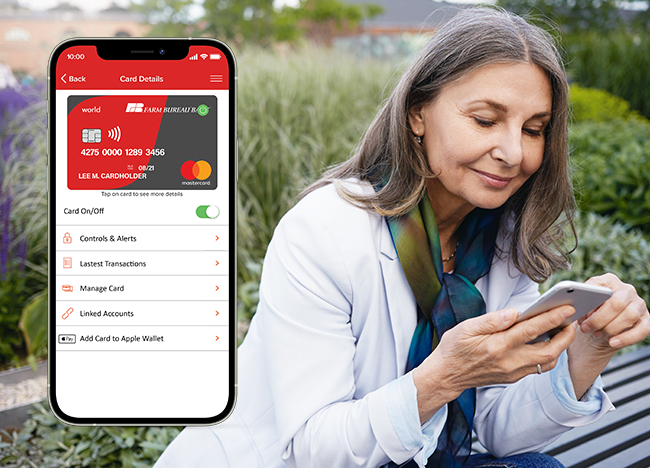 FBB
CardControls
is a companion app to our online banking mobile app,
FBBmobile
, that gives you complete control of when, where and how your Farm Bureau Bank debit or credit cards
1
are used. Instantly turn them on or off, control usage, and get real-time alerts
2
for a variety of card activities.
To access, select CardControls under Services in your
FBBmobile
app today!
Turn your Farm Bureau Bank debit or credit cards on and off instantly. This give you ultimate control and peace of mind - especially if you aren't sure where your card may be.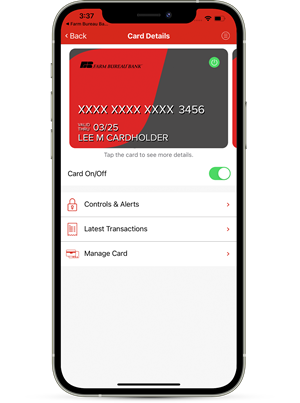 Use location controls to ensure you are the only person using your card when it's with you. You can also set alerts to notify you if a card transaction occurs in an unexpected location. You have complete power to protect yourself from fraud.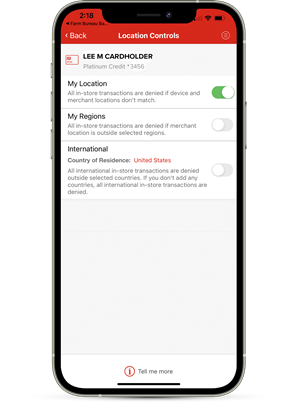 Use spend controls to set spending limits and stick to your budget. Or set spend alerts to know if your credit and debit card has had a transaction that exceeds a set spend limit or monthly limit. No more worrying about going over budget and this is also a great way to monitor for fraud transactions!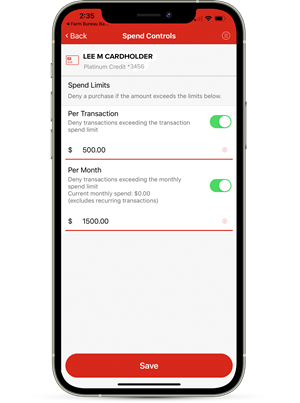 Setting a merchant control is another great way to budget your spending and prevent fraud. You can enable specific categories when you need them and turn them off just as easily. Use merchant alerts to receive a notification when your credit or debit cards are used at specific merchant types like retail stores, gas stations, grocery stores, restaurants, and more!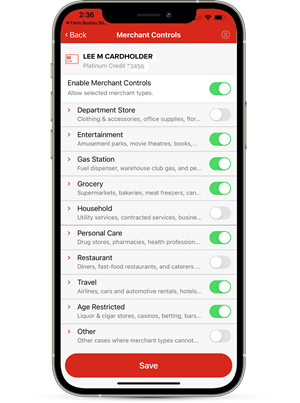 FBBCardControls is a great way to instantly monitor and change the types of card transactions allowed on your cards. Use transaction type controls to allow or deny transactions for specific transaction types, such as in-store, online, mail/phone order, auto pay, and ATM.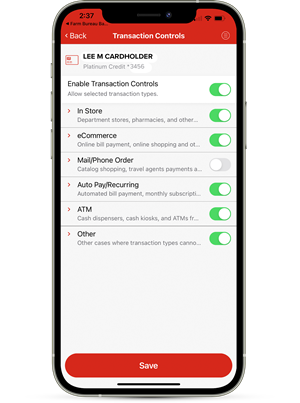 Stay in the know with real-time card alerts! Set your alert preferences in FBBCardControls to receive alerts on all purchases or for selected transactions based on locations, merchants, transactions, and spend limits.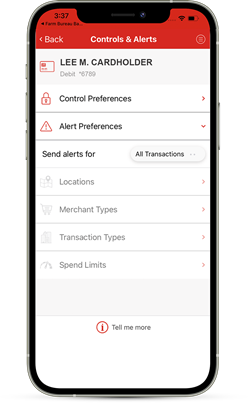 Frequently Asked Questions [FAQs]
Yes! However, standard data rates may apply, depending on your device's plan.
Currently, you can manage the following cards with FBBCardControls:
Farm Bureau® Member Rewards Mastercard®
Farm Bureau Bank Visa® Debit Cards
Farm Bureau Bank Premier Business Visa®
To access FBBCardControls, simply login to FBBmobile then go to Menu > Services > CardControls.
Note: You may be prompted to download the companion app, FBB
CardControls
.
Yes; with FBBCardControls you have access to all of its features, anytime, anywhere as often as you like.
To use FBBCardControls, you must:
Be a Farm Bureau Bank customer with a qualified debit or credit card;
Be enrolled in Farm Bureau Bank's Online Banking service; and
Have a mobile device with Farm Bureau Bank's FBBmobile banking app and FBBCardControls companion app installed.
No. Any Control Preferences set by our customers do not remove or relax any controls we have in place, your security is top priority. In fact, your Control Preferences serve as an additional layer of protection!
Please contact one of our Personal Bankers by calling
1.800.492.3276
with any questions regarding this service.
Disclosures:
1 Access may vary based on account type.
2 Data rates may apply; contact your cellular provider for information on your mobile contract.
The Apple logo is a trademark of the Apple Inc., registered in the U.S. and other Countries. App Store is a service mark of Apple Inc. Google Play is a trademark of Google Inc.