Redeem Offer Code

: Accept your offer today!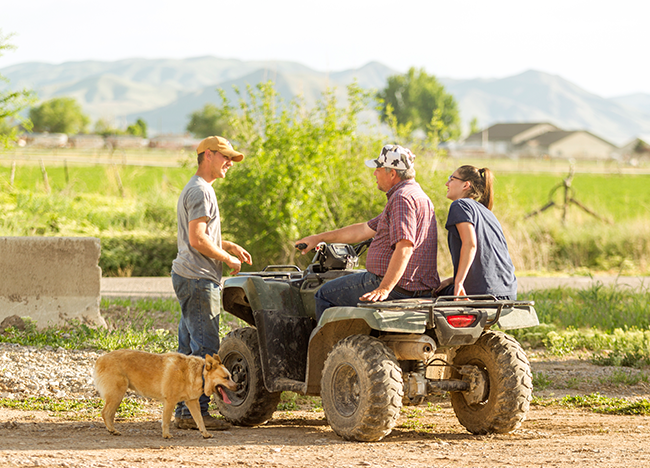 You Carry the Tradition, We'll Pay for the Membership*
Accept your offer for the Farm Bureau® Member Rewards Mastercard®; the everyday card that earns you more while supporting the voice of agriculture!
As low as
Unknown APR
Use the card that rewards Farm Bureau Membership
Introductory Offer
0.00% introductory APR3 on purchases for the first nine (9) months/billing cycles
Receive a $100 statement credit after $500 is spent on eligible purchases in the first 90 days from account open date1
Features
No annual fee4
As low as 17.74% variable APR based on your credit worthiness3
PLUS, Farm Bureau Bank will pay Farm Bureau membership renewal dues for select states after Members meet the spend requirement2
Disclosures:
* Terms and conditions apply. Visit farmbureau.bank for more information.
1 Eligible purchases mean any signature or pin-based, online, phone or mail-order purchase made with the Farm Bureau Member Rewards Mastercard. This excludes Cash Advances, Balance Transfers, credits and returns. Triple reward points on qualifying transactions based on merchant code (5411, 5499, 5541, 5542, 5812, 5813, 5814), up to $1500 quarterly. Double reward points may vary from state to state.
2 Based on purchases made in the calendar year that ends 60 days prior to membership renewal month. Balance transfers and cash advances are not included. State eligibility and minimum annual spend requirements for dues reimbursement vary by state and can be found here at membership dues. Available to new and existing members.
3 Rates disclosed as Annual Percentage Rate [APR] and are subject to change without notice. APRs will vary with the market based on the Prime Rate. Introductory APR is applicable for first 18 billing cycles if balance transfer is made online. After that, your APR will return to the current rate indicated on your statement. If timely payments are not received, the introductory APR may end early. Any amounts over your minimum payment will be allocated to the highest APR balances first.
4 Minimum balance transfer amount is $100 for each transfer request. The balance transfer fee is $0 for the first 60 days, and then changes to 4% of the amount of each transfer or $10.00, whichever is greater. Maximum of 2,500 points earned on balances transferred during the first 60 days. You can avoid paying interest on new purchases if you pay your entire statement balance in full each month. This means you will lose your grace period and pay interest on new purchases if you do not pay the statement balance (including any transferred balances under this offer) in full each month by the payment due date.
5 Other fees may apply.